J.C.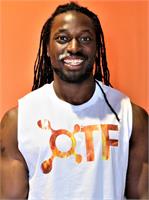 JC started his fitness journey at a young age; working with a personal trainer for basketball and football. He went on to play both sports at Albion College, where he would graduate from. After college, he continued to keep fitness and training a majory part of his life for his athletic career and for the love of fitness. JC began coaching fitness in 2013 and used his passion to help people reach their fitness goals. His favorite thing about OTF is how the workout is designed for everyone and the exercises come with options and challenges. When he's done coaching, you might find JC on a bobsled track!
WHAT DO YOU BURN FOR?
To be a living inspiration that hard work pays off.
WHAT IS YOUR FAVORITE OTF EXERCISE?
Going "ALL OUT" on the treadmills.
WHEN YOU'RE NOT AT OTF, WHERE WOULD WE FIND YOU?
At the movies or hanging out with my friends and family.
WHAT IS YOUR FAVORITE GUILTY PLEASURE?
Oatmeal cream pies - I might have to seek professional help if I want to stop eating them.
J.C. instructs the following:
60 Minute Orange Theory Workout