Heda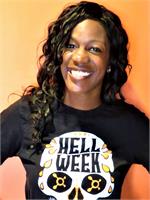 Helping people comes natural to Heda. She loves brightening up peoples' day and leaving them better than she found them. This, and her passion for fitness led her to becoming a certified group and personal trainer through NASM. She loves Orangetheory Fitness because it is a place where she can be herself while helping and inspiring others and is surrounded by not just a community but an OTF family.
"You have the Patience, the Strength and the Passion to Achieve your Ambitions, your Goals, your Dreams. All you need to do now is Try!"
WHAT DO YOU BURN FOR?
A healthy lifestyle both physically and emotionally so that I am able to continue to give back.
WHAT IS YOUR FAVORITE OTF EXERCISE?
Anything power related!
WHAT IS YOUR FAVORITE GUILTY PLEASURE?
Pad Thai, Reubens and Cheesecake!
WHEN YOU'RE NOT AT OTF, WHERE WOULD WE FIND YOU?
Playing volleyball, watching Netflix or hanging out with family and friends.
Heda instructs the following: