Chris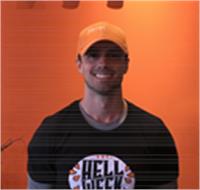 Chris has been involved with fitness since a very young age. His high school track & field coach at the time was a personal trainer who took him under his wing for all four years of high school. Chris was very fortunate to have learned how to work out and train correctly at such a young age. He received his NASM CPT certification shortly after high school and quickly began his career in fitness. Being the competitor he is, Chris fell in love with the sport of fitness that is CrossFit. He traveled and competed locally in CrossFit competitions and became heavily involved with the CrossFit community. Chris has certifications in Olympic Weightlifting, CrossFit and Kettlebells on top of Group Exercise. What Chris loves most about Orangetheory is how the workouts are designed to maintain a target heart rate zone that is backed by science to help stimulate metabolism and increase energy.
"Given enough time and money, your competitors can duplicate almost everything you've got working for you. They can hire away some of your best people. They can reverse engineer your processes. The only thing they can't duplicate is your culture." - George Bradt
WHAT DO YOU BURN FOR?
The members! If I can help at least one member a day in every class I coach, then I'll walk away feeling I've done my job.
WHAT IS YOUR FAVORITE OTF EXERCISE?
The DB Neutral Full Thruster.
WHEN YOU'RE NOT AT OTF, WHERE WOULD WE FIND YOU?
Reading at Barnes & Noble, working out, playing hockey, attending Red Wings games and exploring our great state.
WHAT IS YOUR FAVORITE GUILTY PLEASURE?
Pepsi/Coke and a bacon cheeseburger with sweet potato fries.
Chris instructs the following:
60 Minute Orange Theory Workout